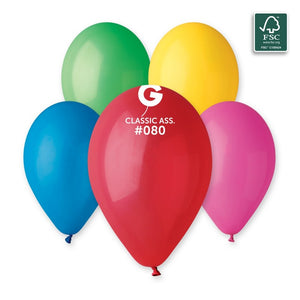 Gemar 13" round standard balloons in classic assortment (50 bag)
Sale price Price £9.99 Regular price £9.99 Unit price / per
Gemar 13" diameter round standard balloons have a rich opaque appearance.
These bulk bags each contain 50 Gemar 13" diameter round standard balloons from their 'classic' assortment range which includes the following assorted colours:
Blue

Green
Pink
Red

Yellow

Gemar latex balloons are made in Italy from 100% natural, biodegradable latex. These balloons are suitable for either helium or air fill.

Please note: Here at Balloon Ace, we only sell premium quality 100% latex balloons. We buy all of our balloons in bulk, either from authorised distributors or directly from the balloon manufacturers. To offer our customers the best possible prices we re-package the bulk balloons into 'Balloon Ace' branded resealable bags to match the quantities of balloons ordered.