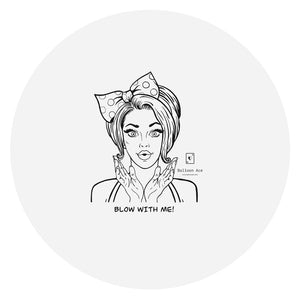 Balloon Ace "Blow with me!" logo (Belbal) 14" round crystal clear balloons
Sale price Price £0.35 Regular price £0.35 Unit price / per
Here at Balloon Ace we are always exploring the creativity and uniqueness of the balloons which we sell. These balloons are both creative and unique.
In a world's first we have devised a balloon concept where the artwork is only correctly visible to you, the person inflating the balloon using your mouth. Upon each breath into the balloon the artwork becomes more visible, coercing you to continue blowing up the balloon. The artwork is fully revealed when the balloon is fully inflated.
For this concept to work as intended we could only use Belbal 14" balloons.
Belbal 14" balloons are one of our favourite balloons because of their high durability and low cost to high quality ratio. We like Belbal balloons so much we have had these crystal clear 14" round balloons custom printed with the Balloon Ace "Blow with me!" logo. These balloons are a great way for you to experience the quality of Belbal whilst showing your support for the Balloon Ace brand.
Belbal latex balloons are made in Europe from 100% natural, biodegradable latex. These balloons are suitable for either helium or air fill.
The artwork on these balloons looks 'back to front' or mirrored when uninflated. This is normal as the correct viewing position for the artwork is when you are inflating these balloons by mouth.
If you do not want to artwork to look 'back to front' simply turn the balloon inside out before inflating.
Please note: Here at Balloon Ace, we only sell premium quality 100% latex balloons. We buy all of our balloons in bulk, either from authorised distributors or directly from the balloon manufacturers. To offer our customers the best possible prices we re-package the bulk balloons into 'Balloon Ace' branded resealable bags to match the quantities of balloons ordered.
Please select the quantity of balloons you require from the options menu.
Please note the price is for a single balloon.