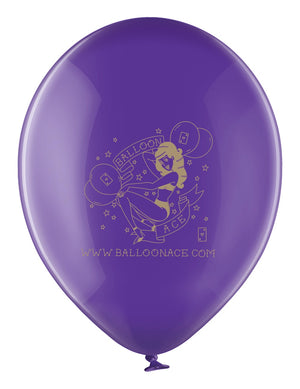 Balloon Ace "Gold Edition" tattoo logo (Belbal) 14" round crystal purple balloons
Sale price Price £0.35 Regular price £0.35 Unit price / per
Belbal 14" balloons are one of our favourite balloons because of their high durability and low cost to high quality ratio. We like Belbal balloons so much we have had these crystal purple 14" round balloons custom printed with the Balloon Ace "Gold Edition" tattoo logo (Tattoo logo in gold ink). These balloons are a great way for you to experience the quality of Belbal whilst showing your support for the Balloon Ace brand.
Note: The "Gold Edition" celebrates our love for Belbal balloons and will be the last time that our tattoo logo will ever be available on a Belbal 14" balloon.
Belbal latex balloons are made in Europe from 100% natural, biodegradable latex. These balloons are suitable for either helium or air fill.
Please note: Here at Balloon Ace, we only sell premium quality 100% latex balloons. We buy all of our balloons in bulk, either from authorised distributors or directly from the balloon manufacturers. To offer our customers the best possible prices we re-package the bulk balloons into 'Balloon Ace' branded resealable bags to match the quantities of balloons ordered.
Please select the quantity of balloons you require from the options menu.
Please note the price is for a single balloon.