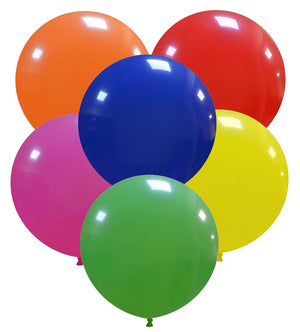 Cattex 19" round assorted balloons (50 bag)
Sale price Price £9.99 Regular price £9.99 Unit price / per
Cattex 19" diameter round standard balloons have a rich opaque appearance.
These bulk bags each contain 50 Cattex 19" diameter round in a mix of both standard and crystal finish balloons in the following assorted colours*:
Blue (standard)
Clear (crystal)
Green 

(standard)



Orange 

(standard)



Purple 

(standard)



Red 

(standard)

Turquoise (standard)

Yellow 

(standard)

White (standard)
*Please note that not all colours may be included in each bag due to the random nature of packing. Cattex have various shades of some colours which may be included within the bulk bags.
Bulk bags give you an approximate saving of 10% when compared to buying individually.
Please note: Cattex round balloons inflate to a slightly smaller size than other brands with the same rated size. These 19" balloons inflate closer to 17.5" in diameter.
Please note these balloons are manufactured using a fluted former.
Cattex latex balloons are made in Italy and Malaysia from 100% natural, biodegradable latex. These balloons are suitable for either helium or air fill.
Please note: Here at Balloon Ace, we only sell premium quality 100% latex balloons. We buy all of our balloons in bulk, either from authorised distributors or directly from the balloon manufacturers. To offer our customers the best possible prices we re-package the bulk balloons into 'Balloon Ace' branded resealable bags to match the quantities of balloons ordered.